Market Research in Seconds – using Data Engineering, Machine Learning, and NLP  
The President's Management Agenda calls for using automation software to improve the efficiency of government services to focus on emerging technologies, including machine learning and autonomous systems. OMB is pursuing an Acquisition Modernization Plan that leverages leading-edge technology to enable the acquisition workforce to shift its attention to higher-value work and focus more on activities that prioritize mission. It's no secret that comprehensive market research lays the foundation for a successful project, regardless of the industry. For federal contracting procurements, market research begins when a government agency recognizes the need for a specific product or service and defines the scope. For market research, the acquisition officials must understand industry capabilities related to their needs.
Problem Statement:
Market research is a complicated process of collecting and analyzing data on products, services, business practices, and vendor capabilities. Market research aims to learn about the market to enable acquisition officials to make informed, suitable decisions related to acquiring goods and services and includes finding small business vendors with capabilities to meet the need.
Small businesses, such as CORMAC, are critical to promoting competition in the federal procurement process and growing the national economy. Federal acquisition professionals must make every reasonable effort to find qualified small business vendors and to meet overall small business or subcategory (HUBZone, WOSB, etc.) goals. Federal acquisition professionals are often juggling multiple opportunities at any given time. This tedious and laborious process could be simplified using available emerging technologies.
Meet CORMAC's Envisioning and Prediction Enhancing System (CREPES) for Market Research (MR) Product – Simplifying Tedious Market Research
Our partnership with the Department of Homeland Security (DHS) Procurement Innovation Lab (PIL), which originated with a multi-phase engagement in 2019, provided the foundation for our market research product. This engagement resulted in two products, the most recent of which is a product to support federal acquisition professionals with market research.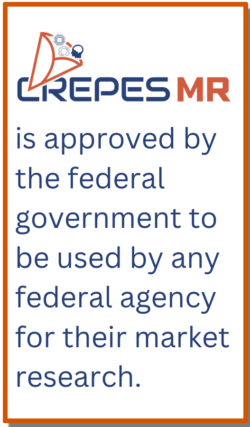 CREPES MR began in CORMAC's Innovation Lab (ILAB) as a byproduct of our Data Science Practice. The product extracts data sources from the public domain to conduct market research. CREPES MR aims to save contracting officials (COs) across the federal government time and energy through the application of data engineering, machine learning, natural language processing (NLP), and data visualization to augment their market research efforts.
When using CREPES MR, the end user sets search parameters before generating a list of vendors ranked by the relevance of their past contracts. We are pulling most of our vendor/contract information from data available on sites such as USASpending.gov and SAM.gov, among other publicly available data sources planned for integration soon. Based on the search criteria, CREPES MR uses in-memory computing to scan millions of contracts and generate a list of relevant vendors. The more relevant work a vendor has done, the higher they rank on the results list.
---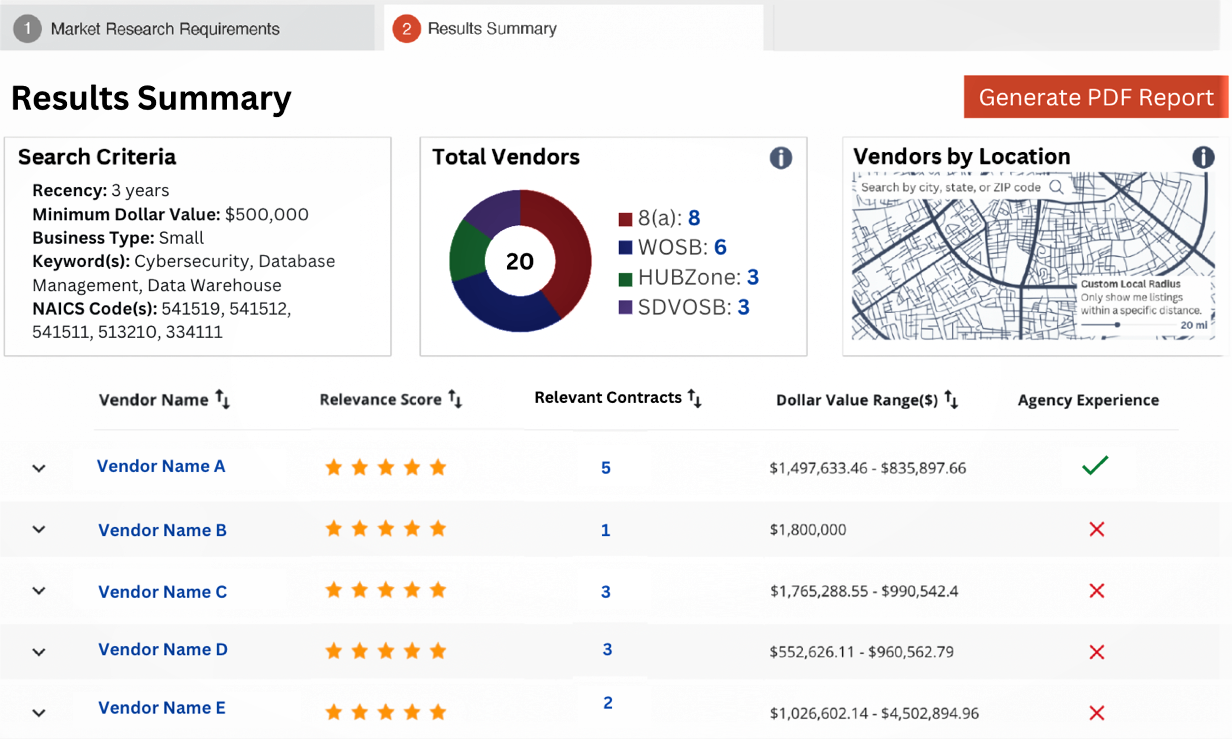 ---
The CREPES MR Results Summary page displays a snapshot of relevant vendors and allows users to drill down into each vendor's information to learn more about their work. Users can filter and sort results by business type, agency experience, and more.
Conclusion
CREPES MR aims to help the federal acquisition workforce better perform and document market research. Our product team is engaging with users to continuously bring in features from our product roadmap.
For more information about CREPES MR, or to sign up for FREE early access through early 2023, please reach out to crepesmr@cormac-corp.com.
Uncategorized