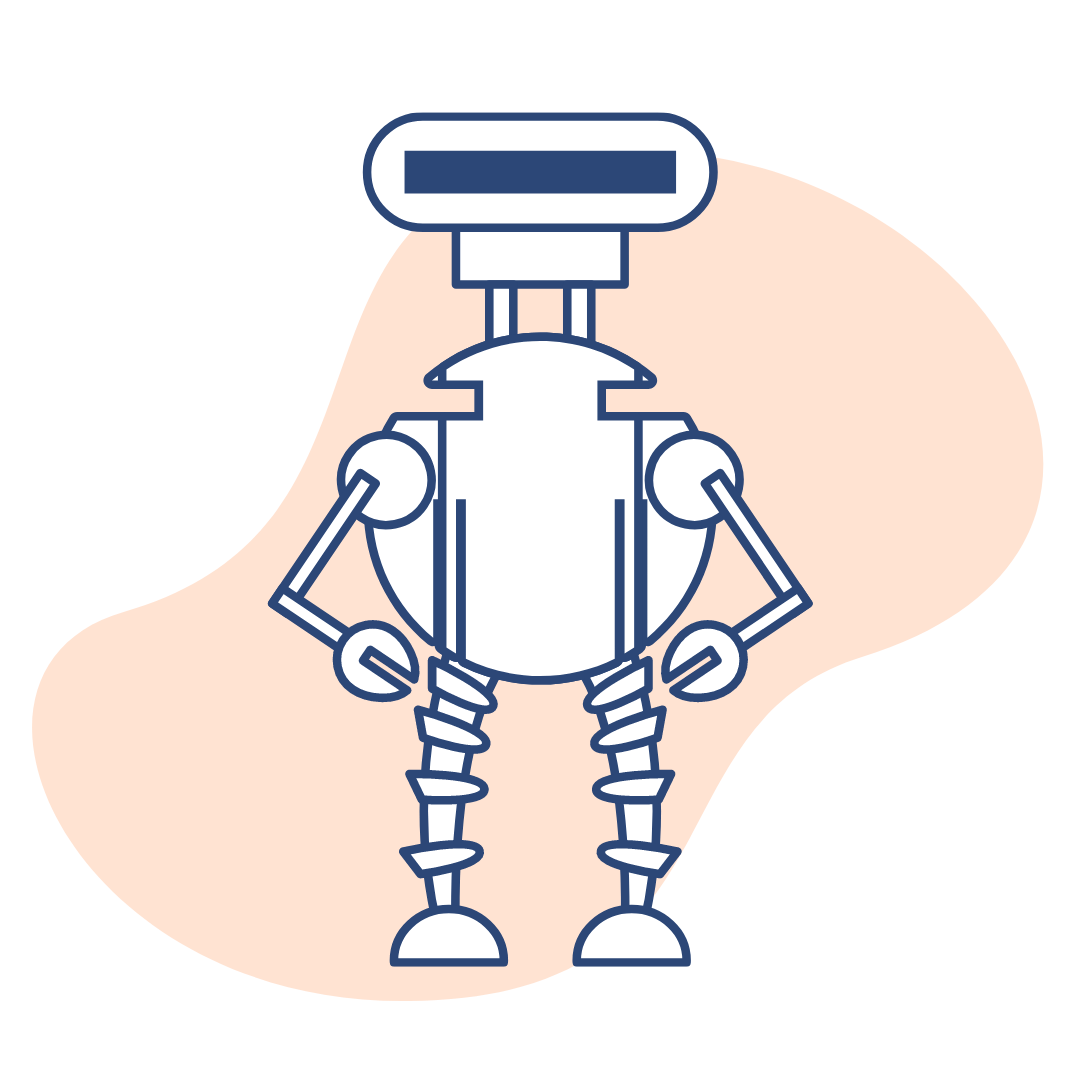 At CORMAC, we're no strangers to leading edge technologies. We previously wrote about using machine learning to help government acquisition. Now we'll explore our use of Intelligent Process Automation (IPA), a derivative of Robotic Process Automation (RPA) to an existing business process to provision funds to nursing homes in one of our Centers for Medicare & Medicaid Services (CMS) contracts, Civil Money Penalty (CMP) Application and CMP Reinvestment State Plan Reviews. Guided by a Human Centered Design (HCD) framework to understand CCSQ's analytic use cases, we used RPA with Artificial Intelligence (AI)/Natural Language Processing (NLP) to automate the existing business processes in reviewing and approving funds to nursing homes in various states, including COVID-19 critical funding. This combination of technologies is known as IPA resulted in saving time and improved the process efficiency in responding to the funds requests from nursing homes with vulnerable populations.
The Business Problem
Civil Money Penalties (CMP) are monetary penalties that CMS may impose against nursing homes that fail to comply with Medicare and Medicaid participation requirements for long-term care facilities. Through the passage of 42 CFR § 488.433, Congress has authorized that a portion of CMPs collected from nursing homes be returned to the states in which CMPs are imposed. State CMP funds may then be reinvested to support activities that will benefit nursing home residents and protect or improve their quality of care or quality of life. As part of our continued commitment to supporting the CMS CMP, CORMAC provides business process services to assist with the screening of CMP reinvestment applications and state plans.
Through the CMP program, CMS collects funds from out-of-compliance nursing homes and rewards in-compliance nursing homes with reinvestments. While nursing homes use these funds for varied purposes, many used the resources to help improve the quality of life of residents during the COVID-19 pandemic. Specifically, these dedicated funds helped nursing homes buy communication devices like iPads and visitation aids such as Plexiglas barriers to help residents stay in touch with their families.
We saw a need to improve the response to COVID-19 funds requests from states. Requests for funds were flooding in and it was increasingly difficult to manually review each approval letter for accurate amounts and items in a timely manner. Given the many formats in which we received the approval letters, entering all the data in the applications and updating the database became a tedious, error-prone, and time-consuming task that took away from higher-value work.  This delayed the turnaround time to approve the funds to Nursing homes.
Our Solution Using Intelligent Process Automation (IPA)
CORMAC leveraged IPA—the combined power of RPA with AI/NLP—to address the business problem. The applications are in various formats: email text, word, PDF, and scanned documents. We built a process to combine RPA coupled with the Optical character recognition (OCR) and NLP/AI to "read" each email from applicants with various formats including scanned documents as illustrated in the diagram below. The automated IPA process determines whether each email meets our pre-defined criteria for standard format. If an email and its attachments check all the boxes, the bot completes a workflow and enters key information into the project database. However, if an email does not fit the required format, the bot will put it in a folder for human intervention—meaning a team member will inspect it more closely before entering the information into the project database. Our process increased the processing speed by 72%, resulting in an improved response to nursing homes.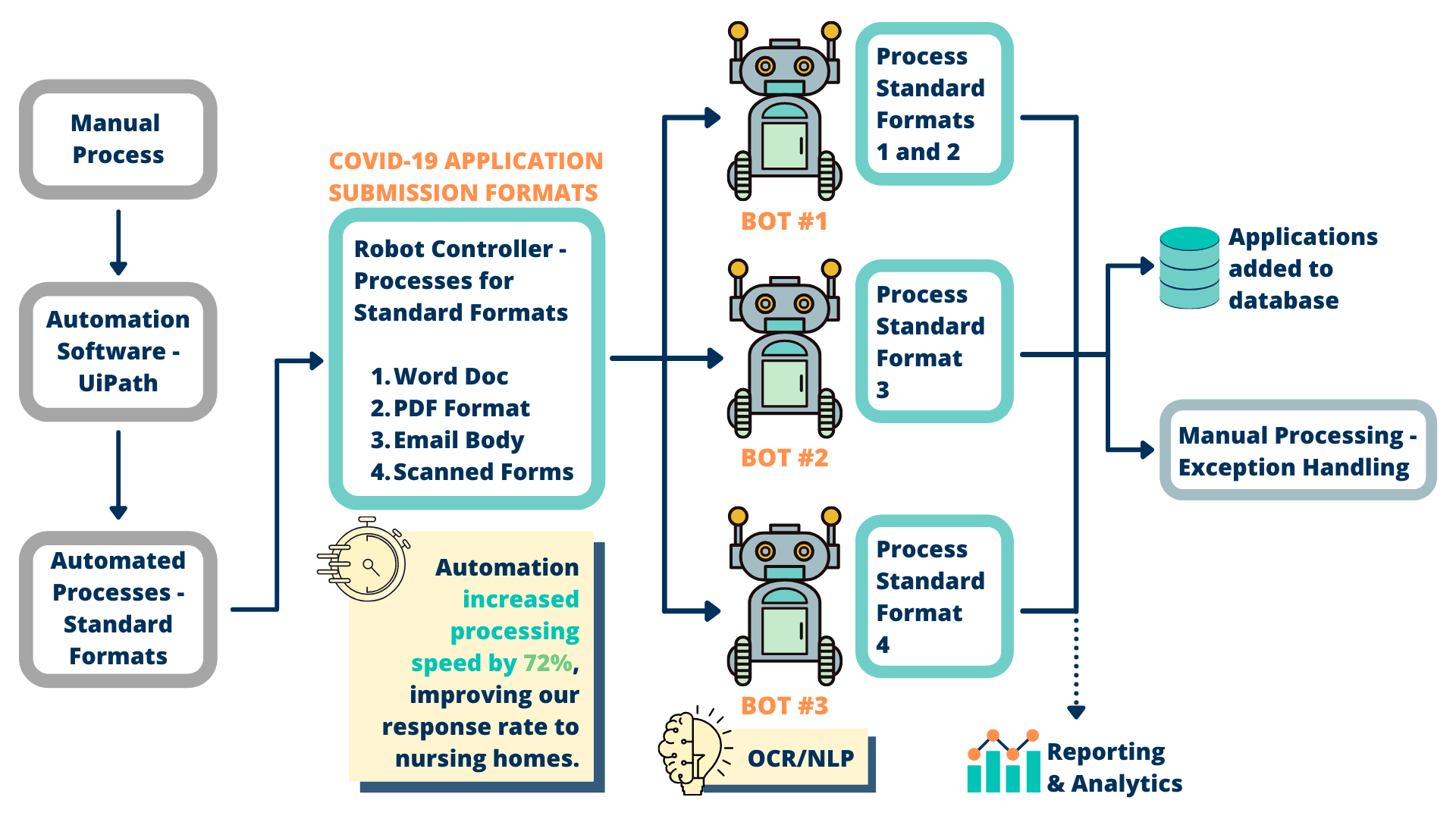 Business Benefits: IPA/RPA Prepares Healthcare Organizations for the Future
Our work with CMS is just one example of the vast potential automation brings to the healthcare industry. CORMAC is proud to be a leader and innovator in automation for healthcare and know our work directly touches the lives of many people. Each routine activity that IPA automates eliminates manual work and empowers professionals to take on higher-value activities and deliver better service to patients.
Stay tuned for a follow-on post where we explore the present and future of automation in Health IT.
Innovation